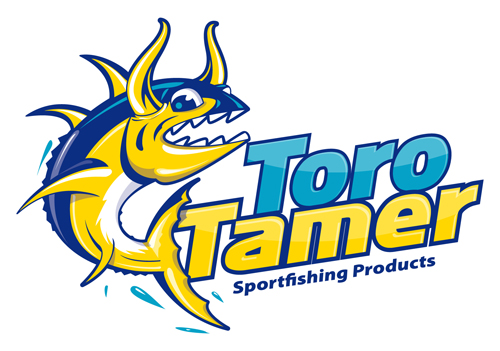 Toro Tamer® Sportfishing Products - Makers of top quality saltwater fishing gear, that gets bit! Expect the best gear, and the best value from Toro Tamer, you won't be dissatisfied, that's a promise from us to you.
Please click on the following links to view our range of products:
SUPER BRAIDED LINES & TOOLS
DIVING LURES, DEEP WATER IRON,
CASTING IRON, JIGGING, SURF & INSHORE RODS,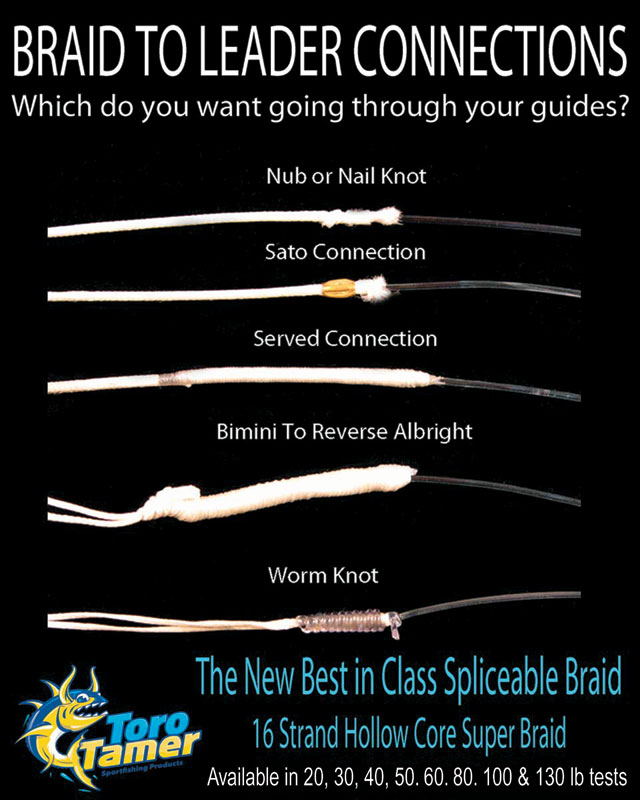 Toro Tamer introduced the first 20# and 30# 16 Strand Spliceable Braid
at the 2013 ICAST show in Las Vegas.
This new product offers both fresh and saltwater anglers all the benefits of virtual 100% knot strength...since there is no knot, there's no potential of line cutting into itself. Greater strength, stealthier presentations, and better casting.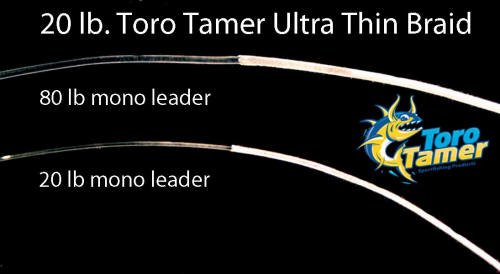 Our new 20# Spliceable Braid accepts a wide range of leaders as the image above demonstrates.
Frankly, ToroTamer's 20# 16 Strand opens up better for easier rigging than most competing firms 60# line.
You can find Toro Tamer rods, lures and accessories at select dealers in Australia, Tahiti, Costa Rica, Mexico, Germany, Italy, Turkey, Croatia, Greece, Bulgaria, Canada and the United States.
Prospective Dealers: If you are interested in carrying our products please contact us by email and tell us a bit about your business. In order to best serve our clients we must limit distribution of products within territories, and dealers must have a retail shop. We are not interested in web-based on-line sales; we believe personalized service is required to best inform fishermen of the benefits of our products, and their best use to achieve unsurpassed results. That can only be provided by qualified retailers dedicated to direct client service.