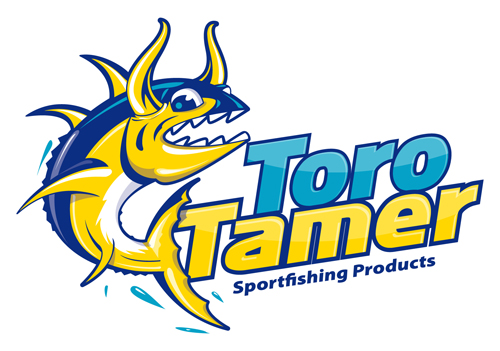 Toro Tamer® Sportfishing Products - Makers of top quality saltwater fishing gear, that gets bit! Expect the best gear, and the best value from Toro Tamer, you won't be dissatisfied, that's our promise to you.

Please click on the following links to view our range of products:
SUPER BRAIDED LINES & TOOLS
BRAID INSTRUCTIONS - RIGGING TECHNIQUES
DIVING LURES,
DEEP WATER IRON,
CASTING LURES,
OFFSHORE, SURF & INSHORE RODS,

and now ESCA Fishing Products

Click on this link for a view of our full range of products and retail prices. (PDF document)

---

Press Release August 1, 2015
Toro Tamer has been appointed USA distributor for ESCA lights.
These unique products have been away from the American market for four years. They are back! ESCA's "salt water powered" lights are unique in the industry, winning several international awards for their effective and unique designs. ESCA lights are available in four forms, blinking and fading in both green and blue. ESCA also produces two accessory lure kits which work in conjunction with the lights. More information regarding ESCA lights is available at esca-usa.com

Esca Global Corporation aims to be the leading company in the development, production and distribution of technology using simulated biological light waves. Our products and our technology will be developed both for hobby fishermen, sports fishermen and for the commercial fishing market.

If you have been trying to find these wonderful fish attracting lights, your search is almost over. Let your favorite tackle shop know that the ESCA lights are available through Toro Tamer. Dealer enquiries very much welcomed. ESCA products are now available, locally warehoused and supplied, in the United States.

ESCA-USA can be contacted via email: ESCA Information

---

ICAST INTRODUCTIONS

What's New for 2015?

Thank you for visiting us at ICAST 2015. At this year's show we introduced our full line of braid rigging needles, reverse latch, loop and threading needle products. Additionally our new Super Braided lines in high vis form, several new lures and a preview of a new series of travel rods were displayed at the show.


New Hollow Braid Rigging Needles for 2015
Three kits, 16 Sizes, 3 Styles of Needles



New Poppers for 2015
Three sizes, five color patterns.


New Swimming Jigs for 2015
Five Sizes, five flavors,
all fish catchers...

At ICAST 2014 Toro Tamer introduced new 12 Strand Spliceable Hollowcore lines, making ToroTamer the ONLY supplier offering a full range of both 12 and 16 strand Spliceable Braids. Additionally Toro Tamer showed off new Travel Rods, Jigging Rods and Wind On Leader materials.

Toro Tamer introduced sportfishing's first 20# and 30# 16 Strand Spliceable Braid at the 2013 ICAST show in Las Vegas. This new product offers both fresh and saltwater anglers all the benefits of virtual 100% knot strength...since there is no knot, there's no potential of line cutting into itself. Greater strength, stealthier presentations, and better casting.


Our 20# Spliceable Braid accepts a wide range of leaders as the image above demonstrates.
Frankly, ToroTamer's 20# 16 Strand opens up better for easier rigging than most competing firms 60# line.
With a bit of work, meaning use of an extra small loop needle, you can load 80# leader into our 20# braid!
---

Congratulations to Dave Sanders on his 274 lb yellowfin tuna caught at the Huricane Bank using 100lb ToroTamer 16 Strand Super Braid. Please note, ToroTamer is offering a bounty on big fish caught with our lines. Yellowfin Tuna of over 300 lbs earn a $500 gift card, Yellowfin over 200 lbs earn $100. The gift cards are handled through the retailer who sold or spooled the reel, further information regarding this program is available at our dealers location.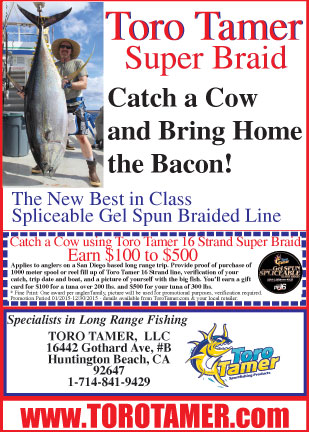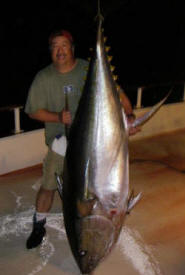 Catch a Cow on ToroTamer and get a bounty on that fish! Our dealers have the details, $100 gift card for a tuna weighing over 200 lbs, $500 for a 300 pounder! Please ask your favorite tackle shop for more information...
"I recently returned from a 12 day on the Royal Star. I was lucky enough to catch a cow. The tuna weighed 282 lbs. a personal best. The fish was caught on Toro Tamer (100 lb) purchased and spooled on my Makaira 20SEII" (12/6/12). Neil Manji
Bounty's paid through the dealer from whom you purchased your line, requires proof of accomplishment, image/images, trip date and some other information specified on the flier which your dealer will have posted or you can download here by clicking on the image upper left.
---
You can find Toro Tamer rods, lures and accessories at select dealers in Australia, Tahiti, Canada, Costa Rica, Mexico, Germany, Italy, Turkey, Croatia, Greece, Bulgaria, and the United States. If your favorite tackle shop doesn't carry Toro Tamer, please ask them to get hold of us.

We do not sell direct to the public If you are unable to buy our products at your local tackle shop, please contact us directly and we can refer you to a dealer who may assist you purchasing ToroTamer products.

---

Visit us on You Tube
New videos posted: Connections - RP knot for solid braid, Nail knot for termination/transition point on hollow, new 12 strand hollow shown. And, Megan demonstrating fly line rigging techniques.

---

Product Questions: If you have purchased ToroTamer products or have questions regarding our line, please email us.

You can also SKYPE us, but it may be best to send over an email first to ensure we're online. Our SKYPE address is: ToroTamer

Prospective Dealers: If you are interested in carrying our products please contact us by email and tell us a bit about your business. In order to best serve our clients we must limit distribution of products within territories, and dealers must have a retail shop. We believe personalized service is required to best inform and educate fishermen of the benefits of our products, and their best use to achieve unsurpassed results. That can only be provided by qualified retailers with a knowledgeable staff dedicated to direct client service.